Pictures Say Everything: Interior Design Advice for Staging Your Living Room
by Jessica Parekh
We spend most of our time at home designing a space that feels uniquely ours – personalized to our individual styles and adorned with furniture and items that bring us joy. But once you're ready to sell, it can feel daunting to figure out how to suddenly make that personal space feel a bit more universal and broadly appealing to prospective buyers. Because truthfully, photos of your space can be the difference between a buzzing open house and a slow trickle of interest.
The good news is that home staging doesn't have to be a complex, psychological, big-budget effort. That's why we developed this guide to simple and relatively low-budget living room home staging tips – from your sofa choice to your light sources – with advice from a few top staging and real estate experts.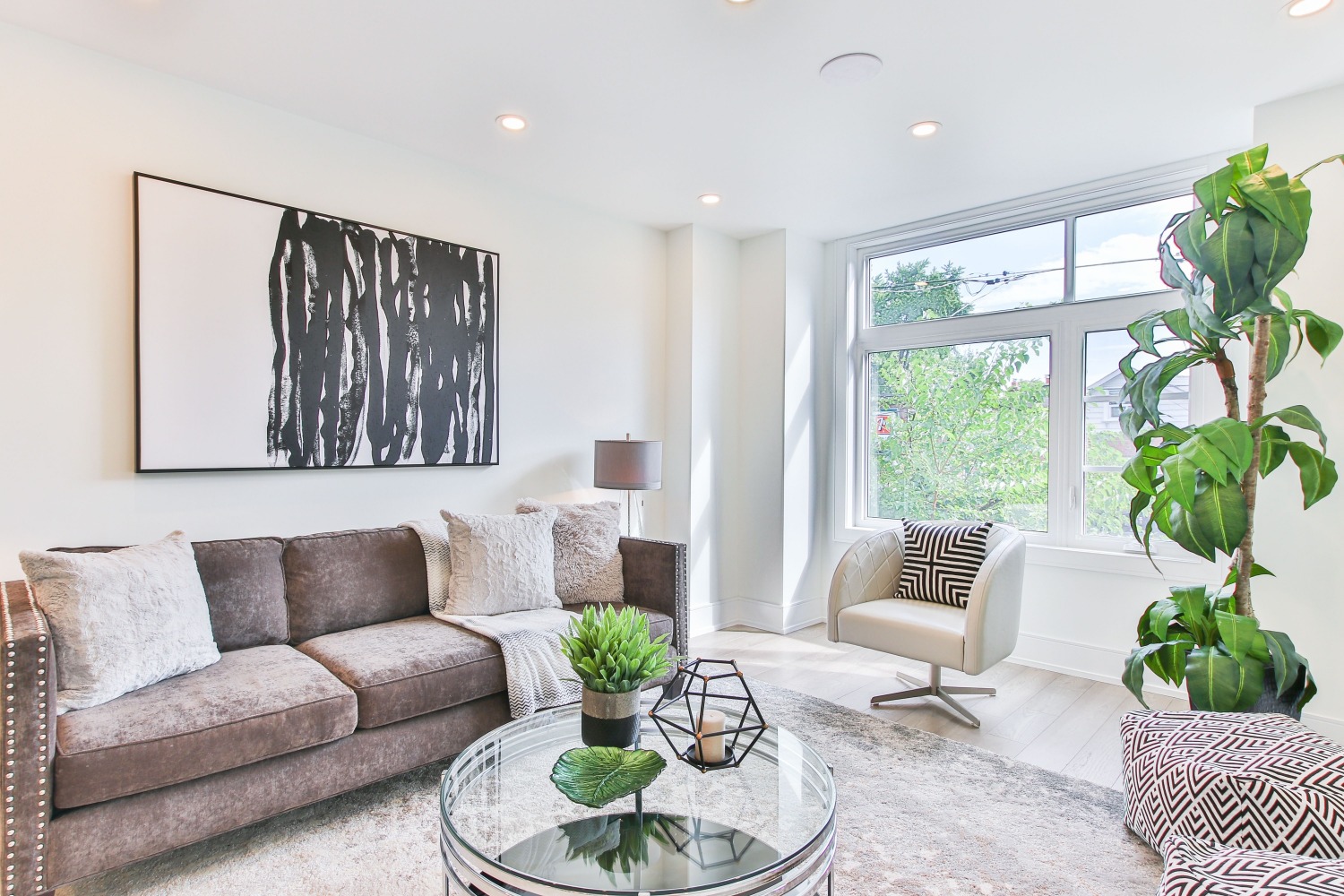 Lighten Up
Focus on off-white walls and as much lighting as possible, taking care to add ceiling, table, and floor lamps.
Sid Pinkerton of Manhattan Staging recommends making the space as light as possible. How? Easy: strategic choice of paint colors and lamps. Give the place a fresh coat of off-white paint and be scientific about your lighting. "Try to have three points of light in each room," Pinkerton says. Angles matter. Make sure you have a ceiling lamp, a table lamp, and a floor lamp to "lighten the space as much as possible."
That goes for natural light too. If you have a lot of natural brightness in your living room, embrace it! Don't hide your windows behind heavy window treatments or furniture. That light is a major selling point for many potential buyers and will serve as an instant mood lift.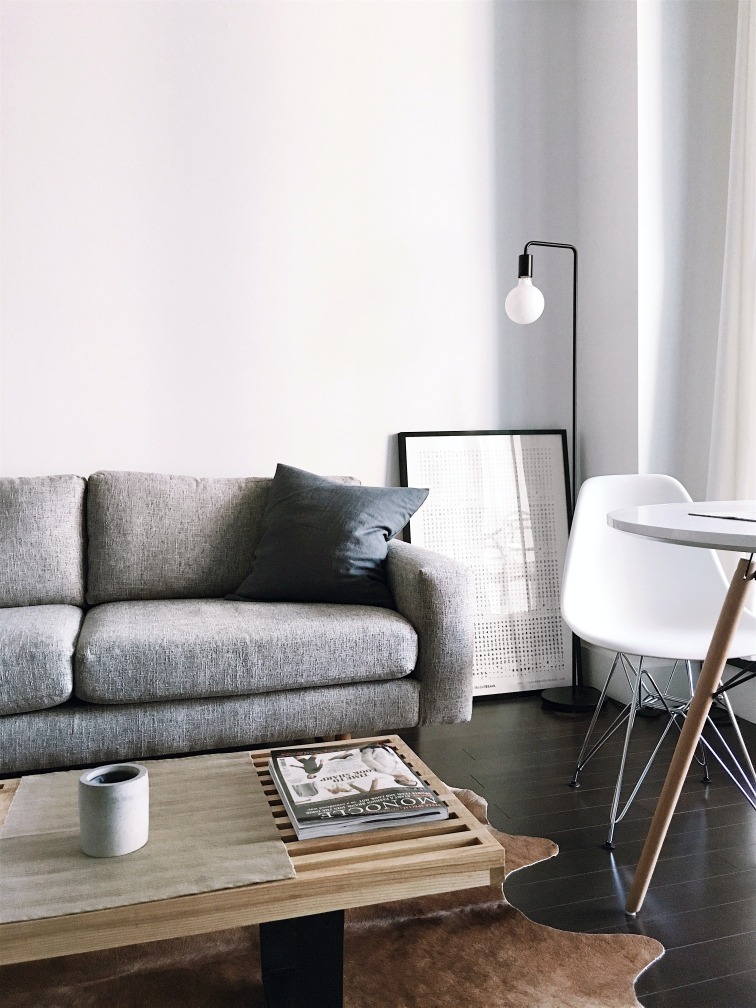 Less (Stuff) is More
Declutter and remove personal memorabilia so potential buyers can imagine themselves in the space.
Don't be afraid to throw things out. "Less is definitely more," says David Christopher Salvatore, the Creative Director of Edge Mid-Century Home Staging. He recommends creating "a bit of zen" for potential buyers. "Leaving calm, open spaces in your presentation acts as a palette cleanser for the buyer, who is taking in an awful lot of information and mental images in a relatively short amount of time."
A few blank walls and open spaces also helps the potential buyer imagine living there. "It is always a good idea to leave some walls naked of art so the buyers can imagine their own possessions in the space," Salvatore explains. Danielle Walish, Creative Director at The Inside, agrees. From her past work as an interior designer and professional stager, she recommends removing any personal photos. "Buyers want to picture themselves living in the space and making their own memories," Walish says.
Pinkerton simplifies even further: "declutter." Kristie Barnett, The Decorologist, is the Founder/President of the Expert Psychological Staging™ certification training program. From her experience training over 200 professional stagers, she recommends that "anything that distracts a buyer from the selling points of a property should be removed, including family photos and overly personal decor."
Do Some Planning
Once you've done some decluttering (and maybe a deep clean of those oft-forgotten corners that are now exposed to the public), think about what interior design elements you want to keep, and which may be best stored away for your next dream home.
Start with the furniture. Definitely keep one set of living room furniture – including a sofa, as well as a few accent pieces (a set of chairs or ottomans and a coffee table or cocktail ottoman). Neutral colors tend to be most advised, as they appeal to the largest common denominator of prospective buyers and allow room for the buyer's imagination to go to work. However, if you're a bold maximalist who doesn't want to invest in a brand-new sectional sofa to replace your leopard print beauty, then ensure the accent pieces fall into a more neutral palette, and consider a few neutral-toned throw pillows or blankets to tone down the wow factor.
Then, decide on the focal point for the space. Perhaps you have a stunning wood-burning brick fireplace. Or large bay windows with a cozy reading nook. Build your layout around that major selling point.
Finally, decide on a likely profile for your potential buyers. Are they families with young children? Empty nesters? Consider a living room arrangement that will most suit those needs.
Accessorize!
A cashmere throw, gold object, artful wall décor or a beautiful orchid in bloom can transform a room from lifeless to luxe.
"It is so important to use quality items," advises Nahila Chianale of staging firm NCC Luxe. "This creates a feeling of luxury. Everyones loves a luxurious space." Accessories can be the seller's friend: cashmere throws, marble or gold objects, beautiful blooming orchids, and scented candles can make a space feel considered, inviting, and aspirational.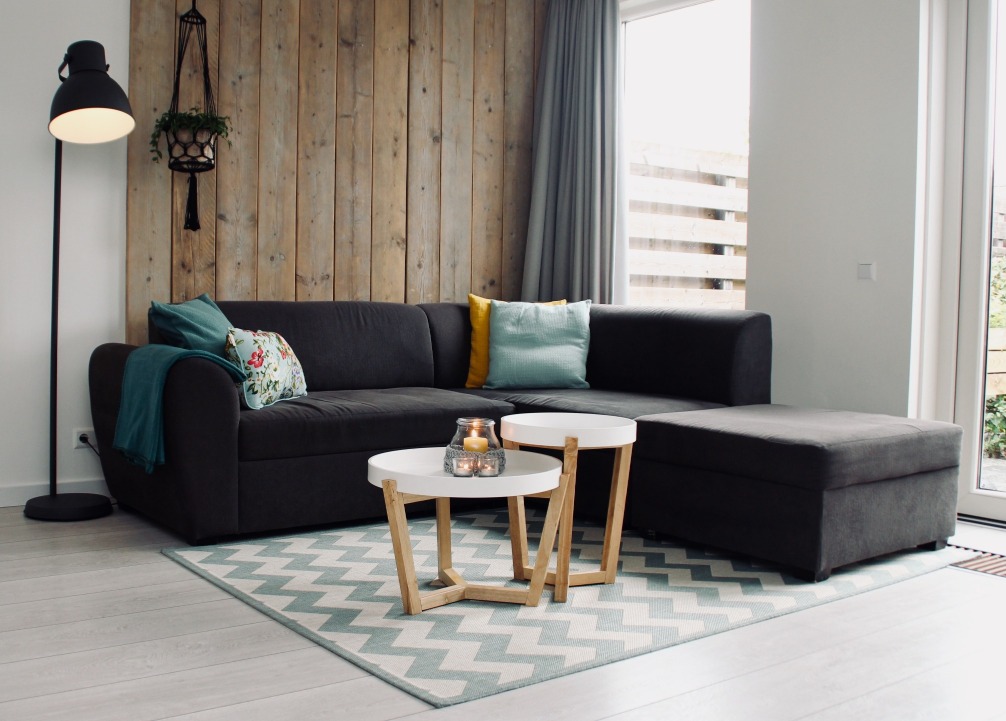 Lastly, consider a few other quick fixes that require minimal effort and budget but offer maximum effect:
About the Author
Jessica Parekh is a rising senior at Northwestern University. Before working in marketing for home furnishings company The Inside, Jessica worked as a Features intern at Condé Nast Traveler in Mumbai. In her free time, she is involved in Northwestern's Circle of Women Chapter, focused on female empowerment.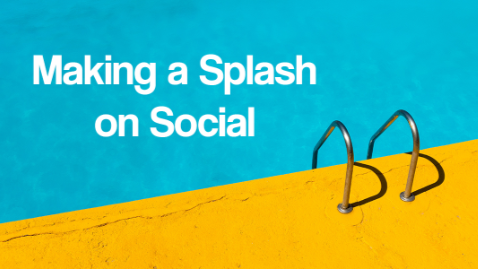 Whether you are new to marketing on social media or a seasoned Instagram influencer giving each new listing a huge boost, the rules and features of each platform are always changing. Ready to dip your toe into the world of social media marketing? This guide covers everything you need to know, whether you're just testing the waters or already flooding your followers' feeds. Download this guide to learn to navigate the sink-or-swim world of social media.